I posted some photos a little while ago of my friend's brand new baby. One of the categories for the Gold Coast Show is babies/children so I just had to do a LO of cute little Harvey! I'm actually thinking I might do one or two more so I might need to increase my stash of baby products.
Poor kid has already faced so many health problems and I've journalled about that around the edge of the outer circle. We got the good news just a few days ago though that the last tube has been taken out and he now just needs to put on weight before he can finally come home after spending the first month in hospital. His mum and dad are so relieved.
This LO was also inspired by the second event at the
Scrapz.biz Olympiad
. You can see the sketch below. The extra requirements were: Bullseye Design; Arrows of any size or style; the word Aim. I think the bullseye and arrows are pretty obvious. I've used the work aim in the last sentence of my journalling.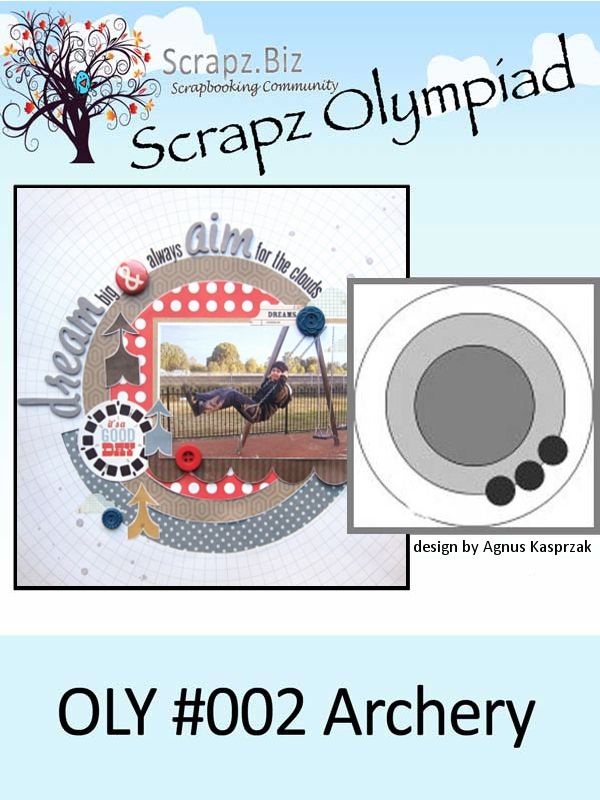 I finally caved and purchased some washi tape, got it the very day I finished this LO and thought it would be the perfect finishing touch. I got mine from Craft Queen, they have very reasonable prices. The buttons is from Ah Scrap! Papers are all Kaisercraft. Crafters Workshop mask template again.